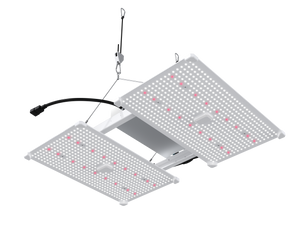 Crecer Lighting
QuantumX 500
Sale price Price $299.99 Regular price $499.99
THE TECHNOLOGY BEHIND IT: Our LED grow panel use full-spectrum lighting that mimics natural sunlight. This induces natural photorespiration for better nutrient intake and faster plant growth. The result is mesmerizing: sturdy plants, healthy growth, and better yields.

MONEY SAVING SOLUTION: The amazing LED growth light is an energy-efficient system that helps you to make important savings. The ultra-efficient heat sinks to maintain the lower overall ambient temperature without using too much power. This energy-efficient LED grow light system is a sustainable and eco-friendly solution for all sorts of plants and flowers.
PREMIUM QUALITY: The QuantumX 500 LED growth light uses top bin LED Samsung LM301H full spectrum white and + 660nm red diodes, a highly efficient yielding technology that can truly make a difference. This high-end crop growing light is ETL-certified for commercial production. The lighting has a 100,000 h lifespan and is only designed for indoor use.
UNIQUE FEATURES: Our premium growing light for plants uses a mix of white, red, and blue light that can enhance nutrient absorption. It has a 2.71 umol/J efficiency and 0-10 V dimming. This LED plant light is easy to install for more practicality.
LARGE COVERAGE: The QuantumX 500 LED growing light panel was designed for a 5 x 5-inch vegetative growth coverage at a 36-inch height or a 4 x 4 -inch floral growth coverage at a 24-inch height. The 120-degree beam angle is more practical and effective.
COVERAGE AREA 
Vegetative Growth : Coverage 5' x 5' @ 36" Height
Flower Growth : Coverage Area 4' x 4' @ 24" Height
FEATURES
LED Chips : Samsung LM301H White + 660nm Red
Housing Material : Aluminum
Finishing : Anodic Oxidation
Optics Material : High Transmission Glass
IP65 Waterproof Design for Greenhouse & Indoor Cultivation Facility
Lighting Impact Resistance : IK08
SPECTRUM
PHOTOSYNTHETICAL DIMENSIONS
PPF Output : 1350 umol/s
Efficiency: 2.64 umol/J
ELECTRICAL DIMENSIONS
Input Power :
 500 W
Input Voltage:
120V - 240V
Current Range :
 5 A - 2.5 A
Frequency Range :
 50/60 Hz 
Power Factor :
 0.99 
Dimming :
0 - 10V 
MECHANICAL DIMENSIONS
Dimensions :
 29.7" L x 19.8" W x 4.09" H   
Weight :
 13.6 lbs
Beam Angle :
 120 degree
HEAT DIMENSIONS
Thermal Management : Passive Cooling
Operating Temp : 0 to 40 degree C
LISTING & CERTIFICATION
Lifespan :
100,000 hours
Listing :
Conforms UL1598 for Dry/Damp Location
Safety Certification :
 ETL, cETL certified
Warranty :
 3 Years Limited
DOWNLOAD 
WHAT'S INCLUDED
1 x QuantumX 500 Led Grow Light 
2 x Hanging Safety Lane
1 x AC Power Cord
1 x Instruction Manual
QuantumX 500
This is the only place I will purchase my lights from for now on. They build solid, quality lights with very strong par readings. They're an exceptional product!. I absolutely love Crecer Lighing!
I love this light
It's a perfect horizontal solution, especially for grow tents.
Crecer Matrix 300 light
Works perfect. Very pleased. I would buy this light again.
Excellent light, my favorite
Let's start off by saying this light is freaking awesome my plant loves this light the growth is off the charts the construction of this light is top notch super sturdy and its plug and play it fits a 2 by 4 perfectly but I think it would be best suited for a 3 by 5. Nothing bad to say here I have an ES 180 V2 and a mars hydro ts 1000 also I came so close to getting the ES 300 V2 instead of this MetriX 300 but I'm totally happy with my decision to go with Crecer lighting running the lm 301h diodes oh almost forgot it's like 140 or 150 cheaper than the ES300 V2 also bottom line both are great lights with great very different spectrums that work great from seed to harvest I'm glad I chose Crecer lighting and I think you should to and they dont pay me to say that even though a tshirt would be nice lol.