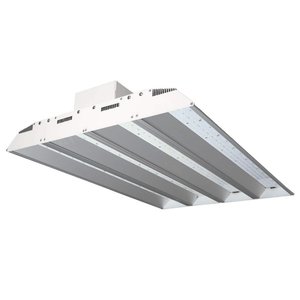 Crecer Lighting
PanthrX II
Sale price Price $399.99 Regular price $699.99
ENGINEERED FOR EXTRAORDINARY RESULTS
The key benefit of PanthrX II LED grow light is its remarkable ability to mimic natural sunlight by emitting a full spectrum of white light. Red and blue light wavelengths activate photosynthesis but are not the only wavelengths plants need. Oversaturation your plants with only red and blue wavelengths actually causes them to go dormant, leading to underproduced plants. By using LED Light with full spectrum, which appears as white light, it induces your plants to undergo natural photorespiration. While that will force them to work harder, it also leads to more efficient nutrient intake. You end up with sturdier plants, healthier growth, and increased yields.
LESS ENERGY AND BETTER GROWTH
PanthrX II LED grow light is a more efficient and powerful light source for sustainable agriculture PanthrX II LED replace 1000W HPS or MH traditional lights and uses the only 640W, so you can save a lot of Energy and powerful lighting output compares to HPS. Over the time, you need to replace HPS or MH bulb while LED last for 7 years and no need to change bulbs. It will save bulb replacement cost as well As maintenance cost of change bulbs and reflectors over the time. You can save more money over a period of 3 years of use. That's why we give our Customer 3-year limited warranty on PanthrX II also, ETL certified the product for safety standards and ROHS compliant so your Customer can buy with confidence and peace of mind.
FEATURES
- Top Bin LED Samsung LM561H Full spectrum White + 660nm Red Diodes
- Energy-efficient LED Grow Light system - Long-life, low maintenance system 100,000 hours based on LM70
- Full spectrum white light output with high-efficiency output up to 2.51 umol/J
- ETL certified for commercial production
- Easy Installation and eco-friendly
- Extra efficient heat sinks to maintain the lower overall ambient temperature
- Designed for Indoor use only.
COVERAGE AREA
- Vegetative Growth : Coverage 6' x 6' @ 36" Height
- Flower Growth : Coverage Area 5' x 5' @ 24" Height
SPECTRUM
PERFORMANCE
LED Chips : Samsung LM561H White with 660nm Red Diodes
Housing Material : Aluminum
Finishing : Oxidation
PPF Output : 1600 umol/s
Efficiency : 2.51 umol/J
Input Power : 640 W
Input Voltage : 120V - 277V
Power Factor : 0.99
Dimming : 0-10V
Compatible with Trolmaster HCS-1 Controller or any 0-10V Controller Available in the market for Commercial Application.
THERMAL & MECHANICAL DIMENSIONS
Dimensions : 30.5" L x 20.3" W x 5.5" H
Weight : 26.5 lbs
Beam Angle : 120 degree
Thermal Management : Passive Cooling
Operating Temp : -20 to 40 degree C
LISTING & CERTIFICATION
Lifespan : 100,000 hours
Listing : Conforms UL 1598 for Dry/Damp Location
Safety Certification : ETL, cETL
Warranty : 3 Years Limited
DOWNLOADS
Datasheet
Installation Sheet
Par Chart
Design Guide
Controller Instruction
WHAT'S INCLUDED
1 x PanthrX II Led Grow Light
2 x Heavy Duty Hanging Ratchet
1 x 120V Power Plug
1 x 240V Power Plug
1 x Instruction Manual
VIDEO
Just amazing
I received the light in amazing shape, well packaged and protected, everything was included even a dimmer was added, thank you for the great service, I did not use the light for growing yet, but I will post an update once I do.
Crecer Panther x ll and mini Panthers
This is the third panther x ll, I also have 2 panther x minis. They are great lights you will not find a better light for the money. I have ran them for a couple years now and I am still very pleased with their performance plants love them
Well built light
I have not used the PanthrX II as of yet, but I did unbox them and was very happy with the build quality and accessories included as well as the blinding light they emitted. I have however used the PanthrX II Mini a few runs and was blown away with the performance of the smaller version of the PantrX II and that is why I purchased the larger PanthrX II. I will update later when I install them but I'm positive they will be awesome !
Great light
I've had two harvest under the first light and they have both went phenomenal great beautiful buds, but I bought a 2nd to add to my 5x5 it made it one full cycle and went out idk what happened but other then that it produces great
Great value on these lights
We tested a half dozen of these lights in a commercial lab. Light output is quite good, and the lights are much less expensive than other lights we've tested with similar output.