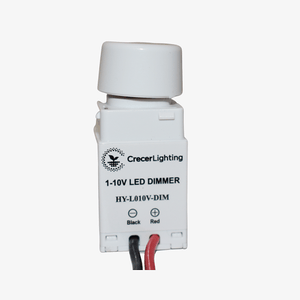 Crecer Lighting
1-10V Dimmer
Sale price Price $12.99 Regular price $19.99
Crecer Lighting offers efficient, cost-effective and easy to use 1-10V dimmer to control the intensity of led grow lights. Simpler than ever before to manage PPFD, thus reducing consumption of energy, and to achieve desirable output of PPFD over canopy by controlling intensity of light output in different grow stages.
REQUIREMENTS
Require 2 dimmer to control PanthrX with 2 leads.
Require 1 dimmer to control PanthrX II.
Require 1 dimmer for PanthrX Mini II.
WHAT'S INCLUDED
1 x 1-10V Dimmer
2 x Wire nuts
DOWNLOAD
Works Great!
It took forever to get it to me but I'm glad to have it. Works great! Thanks!
I have yet to recieve them
arrved as promised haven't yet set the system up as in process of moving
Steven
Easy to install, just had to catch it while it was still in stock.
Dimmer review
I think your lights should come with a dimmer switch built into the assembly.